CranioSacral Therapy
a gentle, effective approach to healing for the mind, body and spirit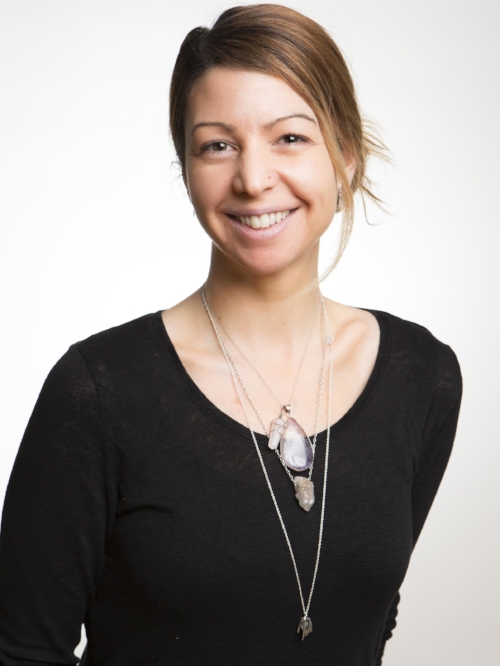 Erin Oglesby, Owner
Erin has completed advanced CranioSacral Therapy training with Dr. Ron Wish at the Great River Craniosacral Therapy Institute. She also trains with Dr. Carol Phillips in the CranioSacral Therapy techniques of Dynamic Body Balancing and Myofascial Unwinding, focusing on pregnant women, infants and children. In addition Erin in a certified yoga teacher (200hr) from Yoga To The People in San Francisco, CA, and has completed yoga teacher trainings with Tari Prinster of Yoga4Cancer(y4c) and Ana Forest of Forest Yoga.
Erin is an intuitive healer, bodyworker and guide. With compassion and focus she is able to tap into the natural rhythms of the body and assist them into deep harmony with one another. Erin has a passion for helping her clients align body, mind and spirt and release tension and trauma through gentle touch, connection to breath, imagery and dialoguing.
Erin has a masters degree in public policy and has worked for humanitarian and women's rights organizations. She has experience working with various populations such as cancer survivors, international refugees, trauma and abuse survivors, those struggling with substance abuse, eating disorders and mental illness.
***Erin Oglesby will be on Maternity Leave until January 2020 and the very skilled Erika Lee Sengstack will be the primary CranioSacral Therapist while Erin is away***
Erika Lee Sengstack
Erika Lee Sengstack received her advanced training certification in CranioSacral Therapy in May, 2018. In addition to CST, Erika's training with Dr. Ron Wish and the Great River CranioSacral Therapy Institute includes SomatoEmotional Release, Guided Imagery, and Energy Cyst Release. Erika has 10 years of training in the Alexander Technique (including 3 years in an MFA setting), she is a Wellness Advocate with doTERRA (offering essential oil education and natural wellness solutions), she has a certification in the AromaTouch Technique and has taken additional CST training courses in Guatemala and NYC.
Erika is empathic and intuitive, having spent 15 years studying theatre, movement, dance, yoga, meditation, mindfulness and personal development. Her mission is to empower people to live vibrant, healthy lives through mind, body, emotions and Spirit with the extraordinary mechanics of our body's own on-board health care systems. She aims to provide a safe space for you and your Inner Healer to let go of what is no longer serving you, to meet your edge with trust and desire, to move through your discomfort and welcome peace and abundance into your life.
How Craniosacral Therapy Works
Craniosacral Therapy is a gentle but profound healing form which assists the body's natural capacity for self repair. The therapist uses light touch to calm the nervous system, identify and release blockages in the body, uncover root causes of stress and pain, and bring harmony to the body, mind and spirit.
It's subtle nature is surprisingly effective and gentle enough for infants, pregnant women, those with severe conditions and seniors.
Can be used to treat:
Chronic pain, chronic stress

Headaches, migraines, TMJ

Depression, anxiety, insomnia

ADD, ADHD

Trauma, PTSD

Digestive issues

Asthma and other respiratory issues

Muscular disorders

Occasional aches, pains and stress
For more information on what you should expect from your first Craniosacral Therapy session click below.
CranioSacral Therapy Session (60 mins)-$175
Package of 3 CranioSacral Therapy Sessions-$450
AromaTouch Essential Oil Session (60 mins)-$175
Complimentary Essential Oil Consultation (30 Mins, Phone or in Person)
Payment is accepted in cash, check or credit card: Visa, MasterCard, AMEX or Discover
Insurance is not accepted, however you may request a receipt and use your flexible spending account.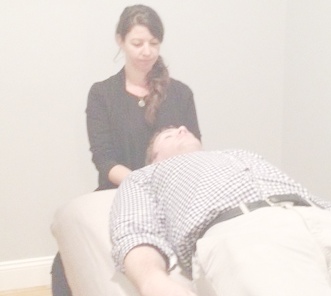 Contact for More Information
Phone and Email
(347) 450–3681 erin[at]erinoglesby.com
Location
Manhattan:
5 Point Physical Therapy
37 W 20th St Ste 607
New York, NY 10011
See Map
Mondays 9am-7pm
Tuesdays 9am-7pm
Saturdays 10am-5pm
Essential Oils
We use doTERRA essential oils in our CranioSacral Therapy Treatments. These are not only the purest oils available, but are incredibly therapeutic. EO's can assist with deep relaxation of the nervous system, immune system support, release of body tension and energy clearing/cleansing. We tailor the use of oils in sessions to your unique needs and preferences and offer complimentary essential oil consultations if you wish to learn more about incorporating oils and supplements into your daily routine.
What are Essential Oils?
Essential oils are the highly concentrated version of the natural oils in plants.
Getting essential oils from plants is done with a process called distillation, most commonly distillation by steam or water, where many parts of the plants are being used, including the plant roots, leaves, stems, flowers, or bark.
how to use Essential oils?
AROMATIC— Essential oils that can be used aromatically. Diffusion is one of the most popular ways to enjoy the aromatic benefits of essential oils.
TOPICAL— Essential oils that can be used topically, which means you can apply them directly on the skin or mix them with carrier oils or other personal care products.
INTERNAL— Essential oils that can be used internally. You can add oils to beverages, take them in doTERRA Veggie Caps, take doTERRA essential oils supplements, or use them in your favorite recipes.
Why Choose doterra?
Every single liter is tested with at least 6 tests to ensure purity and quality

The oils are sourced around the world with great care for the growers, their families and sustainability

The company provides consistent education and support

doTERRA has a beautiful culture of integrity and service
Supplements
Of the products that doTERRA offers, the supplements are an exciting, yet overwhelming option if you're not sure where to start. All doTERRA supplements are bioavailable and made with essential oils, safe for internal use. While there is no complete replacement for a healthy diet and exercise program, today's modern diet does not provide the nutrients we need to not only stay healthy, but also have energy and prevent premature aging. Enter the doTERRA Lifelong Vitality Pack. These are all supplements meant to be used on a daily basis in order to maintain a healthy lifestyle.

The doTERRA Lifelong Vitality Pack

Including Alpha CRS®+, Microplex VMz®, and xEO Mega® the Lifelong Vitality Pack is one of doTERRA's most popular products. This combination of supplements is a complete dietary foundation for a lifetime of wellness.
Enrollment Kits
How can you buy doTERRA
essential oils?
You have three options:
Buy the oils at full Retail price

Join with a "Wholesale Customer" membership. The membership gives you 25% off for a year. It is $35 or free if you start with a kit. There are no monthly fees.

Join with as a "Wellness Advocate" membership. This option costs the same, also gives you a 25% discount but gives you the option to share oils with others to earn commission to pay for your monthly order, supplement your income or even become your new career!
You are not required sell anything or buy again after your initial order.
Starter Kits are the BEST way to start using doTERRA oils and products. Schedule a FREE consult with Erin to find out what kit is the best fit for you. Call Erin at 347-450-3681 or email at erin[at]erinoglesby.com.